S0metimes the path to a college degree isn't always a straight road.
For Rich McCoy, the route to his Valencia degree took him through disaster zones, construction sites and two decades of work.
But last fall, the Orlando Utilities Commission employee earned his associate in science degree in industrial management, thanks to a new partnership between Valencia and OUC.
McCoy wasn't new to the college scene.  He started at Valencia several years after high school, working nights at United Parcel Service, while spending his days in classes at Valencia. But when he landed a job at OUC  in 1992, he couldn't juggle the classes and a full-time job that included many hours of  overtime.
"Once I started working, it took so much of my time," McCoy said.  Just training to become a line technician was arduous; OUC's rigorous line tech program takes about eight years to complete. Meanwhile, McCoy's family was growing. As a dad and a full-time employee, he didn't have time to squeeze college courses into the mix.
"The thing about this job is we're on call 24-7. If a storm arises, or an emergency comes up, we get called in," McCoy says.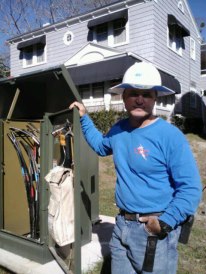 In addition, Orlando's once booming construction business kept McCoy and other OUC employees working lots of overtime hours. But when the recession put the brakes on the construction business, McCoy found himself with more free time. So two years ago, when Valencia and OUC unveiled a program that would allow OUC employees to earn college credits for the on-the-job technical training they receive, McCoy jumped at the  chance.
Shortly after OUC announced the program, McCoy and other OUC employees came to see Valencia advisers to find out how many credits they'd need to graduate.  McCoy was surprised to learn he only needed to take six classes.
Still, he had reservations. He hadn't been in college for nearly 20 years. So he and a colleague, Glen Massari, decided to try taking one class, a computer science class, to see how they did.
As luck would have it, disaster struck during his first semester.  In April 2011, a band of killer tornadoes hit Cleveland, Tenn., and McCoy and other OUC teams were sent to Tennessee to help restore power.  Determined to turn in a class project, McCoy worked on his laptop during the drive up to Tennessee. Once there, he emailed his Powerpoint presentation to the professor, and though communication was difficult, he called his professor from the hotel to make sure he'd received the project.
Undeterred by the interference of Mother Nature, McCoy plowed on, taking one class at a time.  Eighteen months later, he earned his associate in science degree in industrial management, becoming the first of the 10 linemen in the program to graduate. With a degree in hand, McCoy and OUC's line technicians will have more opportunities to advance into management positions.
As for McCoy, the program's first graduate, he's not sure whether he'll eventually go to the University of Central Florida to earn a bachelor's degree. For now, he's happy to have graduated with an associate in science degree.
"As with any degree, it always benefits the person, no matter what the degree is in," he said. "But I'm happy to have that piece of paper. And if it opens doors for me later, so much the better."