Valencia College officials joined with elected representatives from Osceola County as well as community leaders on April 24 to unveil plans for two new buildings on Valencia's Kissimmee campus that will enable the college to expand career training and offer more workforce-oriented degree programs in Osceola County.
Valencia broke ground on the new Center for Accelerated Training (CAT) building, which is slated to open in January 2019, and unveiled plans for the Careers in Industry and Technology building, which is scheduled to open by January 2020.
"I'm confident that these new buildings and the programs they will offer will play a significant role in lifting the educational attainment of adults in our county, just as we've raised the college-going rates of our youth," said Kathleen Plinske, president of Valencia's Osceola, Lake Nona and Poinciana campuses.
The 14,700-square-foot Center for Accelerated Training will house short-term job-training programs, including construction, heavy construction equipment, transportation logistics, warehouse packaging, clinical medical assisting and private security. The new building will also house Valencia's English programs for speakers of other languages, as well as conversational Spanish and Portuguese classes.
The architect on the CAT building is DLR Group; Wharton Smith is the general contractor. The building is expected to cost $4.5 million and construction will begin on April 30, 2018.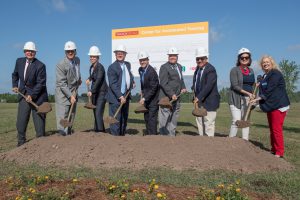 The Careers in Industry and Technology Building (seen in rendering at top) will be a 36,000-square foot building that will provide space for bringing Valencia's engineering technology classes to the Osceola Campus. The building will also house classes for criminal justice technology, hospitality and tourism management and a new degree in residential property management. The five Associate in Science degree programs enable Osceola County students to earn two-year, workforce-oriented degrees without traveling to Valencia's other campuses in Orlando.
The CIT building will also house classrooms, administrative offices and one small mock apartment unit for the college's hospitality program.
The CIT building will also be home to Valencia's mechatronics program, which is a short-term job training program currently housed at Valencia's Advanced Manufacturing Training Center in Kissimmee. Mechatronics technicians learn skills from electrical, technical and computer technologies to enable graduates to troubleshoot mechanical systems in everything from ATMs to assembly lines to computerized theme park rides.
"These short-term training programs and specialized workforce degree programs have never been more important," said Plinske. "Not all jobs require a bachelor's degree; not all jobs require even an associate's degree, but essentially all jobs now require some education after high school."
The $13 million CIT facility will also provide short-term training for service technicians.
"These buildings are just one more example of Valencia College being a good community partner," said Fred Hawkins Jr., chairman of the Osceola County Commission. "These facilities will provide people with intense, hands-on training linked to trades — and will also create jobs that will link to the work going on in NeoCity," a 500-acre technology district that is being developed near Valencia's Osceola Campus.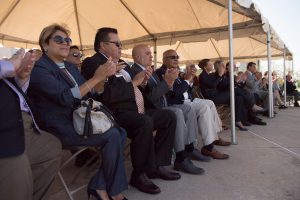 For Valencia College president Sandy Shugart, the two buildings symbolize the college's commitment to helping everyone in the community improve their standards of living — and climb the ladder of success. But he noted, "you can't climb the ladder when the next rung up is two body lengths above you."
With short-term job-training programs, ranging from six weeks to six months, people can change careers or learn skills that will enable them to move up in their current field. The addition of the CIT and CAT buildings in Osceola County, Shugart added, will enable the community to take a step toward training everyone for good-paying jobs. "Today," he told the crowd, "you can say, 'I was there when the community took a new turn.'"