Valencia College's president, Dr. Sandy Shugart, will participate in a high-powered panel discussion on jobs creation on Aug. 29 at this year's Republican National Convention in Tampa.
The panel, which was assembled by Huffington Post creator Arianna Huffington, will explore solutions to the nation's jobs crisis. The panel includes a number of heavyweights from business, government and the nonprofit sector.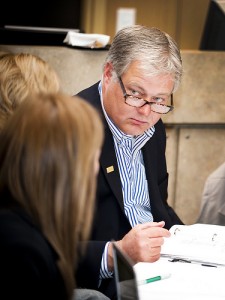 Shugart was selected to participate because Valencia was named the winner of the 2011 Aspen Prize for Community College Excellence. In addition, the college has a 95 percent placement rate for graduates of its Associate in Science programs, which train students in specialized skills that are in demand.
In addition to Shugart, the panel will include: Ohio Gov. John Kasich; Rockefeller Foundation president Judith Rodin; LinkedIn co-founder Allen Blue; Startup America CEO Scott Case, former chief technology officer at Priceline.com, who is helping startup companies find resources; Microsoft general counsel Brad Smith; Aspen Institute CEO Walter Isaacson, author of the Steve Jobs biography and whose organization is studying the role of community colleges in America; Year Up CEO Gerald Chertavian, who helps urban youths get internships in businesses; Venture for America CEO Andrew Yang, whose company matches college grads with promising start-ups; Encore CEO Marc Freedman, who has written about "encore" careers for older workers; and Purpose CEO Jeremy Heimans, who last year won the Ford Foundation's Visionaries Award.
The panel discussion will be moderated by Tom Brokaw. The discussion will be shown on Huffington Post Live (http://live.huffingtonpost.com/r/live) starting at 1 p.m.