Orlando, FL – Sandy Shugart, president of Valencia College, and his band will play a benefit concert on Jan. 10 at 8 p.m. in the historic Garden Theatre in Winter Garden.
Tickets are $25 each, but are $15 with a Valencia ID. Tickets may be purchased at http://www.gardentheatre.org/concerts/index.html
Proceeds from the concert will support the Garden Theatre in its partnership with Valencia College's arts programs.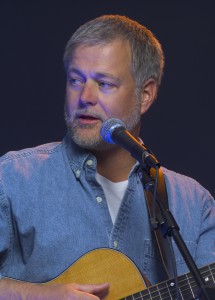 Shugart, who call his style "urban folk" music, plays acoustic guitar and sings. His band includes fiddler Jason Thomas, bass guitarist Dan Minkler and Stu Kinniburgh on mandolin.
Shugart, who has served as Valencia's president since 2000, taught himself to play guitar at age 10 and later attended the University of North Carolina, where he played in coffeehouses and was influenced by musicians such as Livingston Taylor, the folk-singer brother of James Taylor.
Although he now leads one of the nation's largest two-year colleges, Shugart continues to make time for music, honing his folk-influenced, coffeehouse-style sound. He has performed in acoustic and folk-rock venues in California, Texas, the Midwest and Canada.
In recent years, he has combined his musical talents as a singer-songwriter with his academic career, weaving songs and poems into his speeches.
His latest CD, "Distances We Keep," was released in 2012 on FlatFoot Records, a label operated by students in Valencia's Music and Sound Technology program. The disc features nine songs, most self-written, and several covers, including Jimmy Webb's pop ballad, "The Moon is a Harsh Mistress."
Over the past 10 years, Shugart has recorded three other CDs, which have been recorded and engineered by Valencia's FlatFoot Records.