Valencia College Professor James May has been named the winner of a prestigious award for innovative teaching, thanks to his practice of inviting students to use their cell phones to learn in his class.
May, who teaches English to speakers of other languages, says the key to learning a new language is interaction. So he uses a lot of tools – from cell phones to YouTube — to interact with his students.
One of his tricks is getting students to download apps that turn text into audio – much like an audio book. "If they can hear it while they're reading it, they're going to learn it better – especially students who aren't really readers to start out with," May says.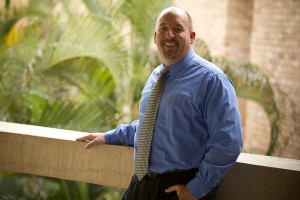 This week, May will receive an Effective Practice Award from the Sloan Consortium, a group of educators and colleges and universities that are concentrating on ways to integrate online education into mainstream higher education.  Other winners include teams from the University of Michigan, City University of New York and a team from Purdue University, Florida International University and Indiana University-Purdue University Indianapolis.
"I've been using technology in EAP (English for Academic Purposes) for a long time," says May, who was named Florida Professor of the Year in 2011 by the Carnegie Foundation. In the past few years, May says he has been approached by higher-education leaders and technology experts to share the way he uses technology in the classroom.
May and the other winners will receive their awards at the 5th Annual International Symposium for Emerging Technologies for Online Learning, which is being held July 25-27 in Las Vegas.
The winning practices were selected for recognition because they provide evidence of innovation and replicability. The practices advance the goals of access, learning effectiveness, faculty and student satisfaction, and scalability.
In addition to the Sloan-C award, May won the Excellence in Technology award by the Association of Florida Colleges, taking first place in 2011. And  in 2010, May was honored by the Florida Association of Community Colleges as their 2010 Professor of the Year.
NOTE: To see May in action, check out this video.