Valencia College received an in-kind software grant from Siemens PLM Software with an estimated commercial value of $63 million.
The in-kind grant gives students access to the same technology that companies around the world depend on every day to develop innovative products in a wide variety of industries, including automotive, aerospace, machinery, shipbuilding, high-tech electronics and many more.
Graduates with this type of software training are highly-recruited candidates for advanced technology jobs.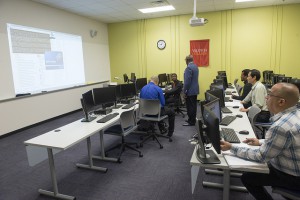 Valencia College will use the software in training students at its Advanced Manufacturing Training Center, which officially opened on February 2 in Osceola County. At the training center, students can earn certifications in: Computer Numerical Control (CNC) machining; Mechatronics; Assembly, Quality and Inspection; Welding; MSSC Certified Production Technician; and Certified Logistics Technician, among others.
Funded by a $2.5 million U.S. Department of Labor grant, Valencia's Advanced Manufacturing Training Center is partnering with local employers, including Lockheed Martin, Mitsubishi Hitachi Power Systems, Metal Essence Inc., Nautique, (dot).Decimal, Amazon Hose & Rubber, Hernon Manufacturing and Siemens.
"By using the same technology in the classroom that is used by companies all over the world to develop a wide variety of products, our students gain important real-world experience during their studies that will serve them well after graduation," said Joe Battista, Valencia College's vice president for Global, Professional and Continuing Education.
The in-kind grant for Valencia College includes Siemens PLM Software's NX™ software and Solid Edge® software. NX™ software is a leading integrated solution for computer-aided design, manufacturing and engineering (CAD/CAM/CAE). Solid Edge® software is an intuitive product development platform for accelerating all aspects of product creation, including 3D design, simulation, visualization, manufacturing and design management.
"Siemens understands the importance of empowering students with the tools they need for success in today's increasingly digital world," said Dora Smith, global director, Academic Partner Program, Siemens PLM Software. "As Valencia College expands its advanced manufacturing training programs, we are pleased to equip the school with the latest in manufacturing technology. By gaining hands-on experience with our PLM software, Valencia College students will be well-positioned to work at Siemens or any one of our 77,000 global PLM customers."
Siemens PLM Software partners with academic institutions around the world to address workforce and education gaps to develop a stronger pipeline of engineering and digital manufacturing talent. Siemens has made in-kind grants of PLM Software grants totaling billions to schools across the United States.
Orlando is the global hub for Siemens Power Generation Services division, as well as the Americas hub for Siemens Wind Power and Renewables division and the Power and Gas division. There are nearly 4,000 Siemens employees in Orlando and the surrounding area.