Orlando, FL – To honor the victims of the Sept. 11, 2001 terrorist attacks, Valencia College's Osceola Campus has teamed up with the Rotary Club of Lake Nona to stage a dramatic display of flags on its expansive lawn – one flag erected for each of the nearly 3,000 lives lost on that tragic day.
This is the third year that the Kissimmee campus has staged the display of 2,977 U.S. and international flags.
In addition to honoring the victims of 9/11, the Osceola Campus flag display will also serve as the backdrop for Osceola County's Sept. 11 county-wide memorial service, which will include participants from the Osceola County's Sheriff's Office, Osceola County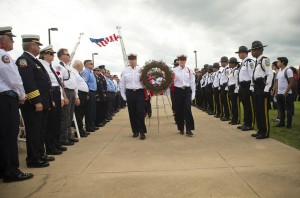 Emergency Services, Kissimmee Police and Fire Departments, and St. Cloud Police and Fire Departments.
Gina Marie Incandela will perform the national anthem and students from Osceola County schools will perform "God Bless America."
The ceremony will be held at 1:30 p.m. on Thursday, Sept. 11, in the Building 4 courtyard at the Osceola Campus. Please note that this is an outdoor event. Seating is limited and will be reserved for those who have served in public safety and those with disabilities.
Valencia's Osceola Campus is located at 1800 Denn John Lane in Kissimmee.
The flags will be on display from Sept. 5-12.
https://www.youtube.com/watch?v=UhlBR8Lrgyc
To install the flags, the Rotary Club of Lake Nona has assembled a community-wide team of volunteers. Between Aug. 25 and Sept. 5, volunteers – including Rotarians, cadets of the Civil Air Patrol, and Valencia students, faculty and staff – will install the 2,977 flagpoles on the campus grounds. To install the poles, organizers will work seven nights in three-hour shifts.
The Rotary has continued to raise money toward a scholarship with the Valencia Foundation to help pay for continuing education for men and women who are currently police officers, firefighters and emergency medical technicians.