Valencia College will hold its Annual Spring Dance Concert on March 25 and 26 at 8 p.m. in Valencia's East Campus Performing Arts Center.
The concert, which highlights the work of guest choreographers and faculty members, features student, faculty and guest dancers performing modern dance, jazz and ballet. One of the highlights will be the performance of Valencia's dance chair, Suzanne Salapa, in a Ginger Rogers-style piece.
This year, the concert features Pond, a modern dance classic by renowned American choreographer Alwin Nikolais. The critically acclaimed piece, originally choreographed in 1982, creates the illusion of underwater creatures and life forms.
The concert will also feature L is for Love, Loss and Light, a modern ballet piece created by returning guest choreographer Derrick Minter. Minter, who is on the dance faculty at the University of Oklahoma, has been teaching and collaborating at Valencia for the past five years. The work is dedicated to his late grandmother.
The concert will close with Clyde's Place, a fun jazz piece set on a New Year's Eve in the late 1940s, after the conclusion of World War II. Dancers for this piece include Valencia dance majors,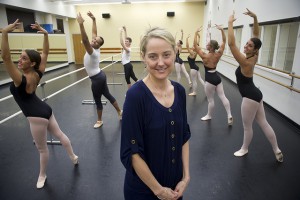 Valencia alumni Forrest Hershey and Antonio Morillo – plus Suzanne Salapa dancing a Ginger Rogers' style role. The dance, which was choreographed by Valencia dance professor Lesley Brasseux Rodgers, is dedicated to Rodgers' late father.
Ticket prices are $12 for the general public and $10 for Valencia employees, students, alumni and senior citizens. Tickets are $6 for children ages 12 and under. Current Valencia College students will be admitted free with a current Valencia College I.D.
For more ticket information, go to www.valenciacollege.edu/arts or call the box office at 407-582-2900.
Valencia's East Campus is located at 701 N. Econlockhatchee Trail in Orlando.