Sometimes,  it's hard to understand the history of a place until you've been there.
For 15 Valencia students, their summer trip abroad will be a somber one — and a trip that will likely change their lives.
Beginning on June 21, they, along with Professors Richard Gair and Paul Chapman, will fly to Poland to tour Nazi death camps.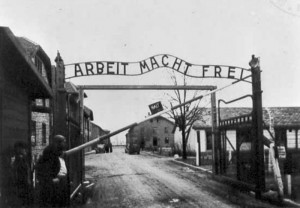 The 12-day trip will begin in Warsaw, Poland, where students will visit the Gestapo Headquarters Museum and the Warsaw Uprising Museum. In addition, they will visit the Warsaw Ghetto, as well as concentration camps and forced labor  camps at Treblinka, Majdanek, Krakow and Auschwitz-Birkenau.
After leaving Poland, the group will spend two days in Prague, the capital of the Czech Republic, where they'll visit Terezin Concentration Camp — a camp that the Nazis showed to the Red Cross to prove to the international community how well they were treating the Jews. Red Cross officials visited the camp once — and found inmates who had been dressed up, shop windows that were filled with goods for the day; and a candy shop window filled with bon bons. At Terezin, 97,297 Jews died, including 15,000 children.
The trip, Gair says, provides students with "a way to touch history that can't be done in a classroom."
To qualify for the trip, each of the students has already taken Gair's class on on the literature of the Holocaust.  The trip — which he has organized twice before — is eye-opening for students, he said.
For 23-year-old Cassandra Petrokas, the study-abroad trip will be very different from her first trip to Europe — when she accompanied her parents to a small Greek village where her father has relatives.
This trip  promises to be emotional and moving, she said. "I'm ready to learn some more and expand on the very, very detailed base that Professor Gair gave us," she said. "It gives me goosebumps, talking about it."
During the trip, the students will blog and post updates about the trip on Facebook (www.facebook.com/PolandSummer2012 ).  In addition, Gair will post videos of the group's journey on YouTube (at the Holocaust Study Abroad Playlist) and on Vimeo.
While overseas, they will also complete assignments for the three-credit course (LIT 2955). For instance, at each death camp, they must organize a short memorial service for the victims. During these memorials, students often read aloud, either selecting poetry or, in many cases, testimony from survivors of that particular camp.
Each day concludes with a "debriefing session." It's a must," says Gair. "I get them to sit in a circle and verbalize their reactions to what they've seen that day."  Their reactions vary, he says. "There are tears, anger, silence, the whole gamut."
For many, however, the enormity of the experience doesn't fully sink in until they're returned home. "Sometimes it doesn't hit them until people ask them about the trip– and they realize that they are having trouble verbalizing it," Gair said. "They have stood in the middle of gas chamber and have touched walls that are stained blue from Zyklon B gas. They have seen the scratch marks from the fingernails of human beings trying to climb over the bodies of other human beings to gasp for air… It's a very sobering experience and it's an experience they'll take with them for the rest of their lives."
Indeed, almost a year after going on the 2011 trip to Poland, Valencia grad Mark Hoffman says he is still coming to grips with it. "It's one thing to read about it (the Holocaust) in books and watch movies about it, but to actually stand in front of the oven in Majdenek, you finally come to grasp how evil people can be," said Hoffman, now 27. "My emotions overcame me numerous times."
He came back from the trip deeply affected by what he saw. "Never underestimate the potential of evil –and how others could be easily manipulated," Hoffman said. "It wasn't just Jews who suffered. There were Christians, homosexuals, gypsies, people from all walks of life."