While farming in Florida is often a trying process 2016 was a fruitful year for 24-year-old Caroline Chomanics, a recent grad of Valencia's horticulture program. In February, Chomanics joined Fleet Farming, an urban agriculture model that transforms neighborhood lawns into productive "farmlettes," which are then harvested by a group of volunteers traveling by bike. She quickly rose from intern to farming coordinator to branch manager of Fleet's flagship group of plots in Orlando's Audubon Park neighborhood.
At the beginning of summer, the two women who schooled Caroline on the new agricultural model went on hiatus to pursue other projects – and suddenly, the green farmer found herself in charge of the Audubon Park network, a task that calls for some creativity in the intense Florida heat. The stakes became higher still when the Fleet Farming crew learned NBC Nightly News would shoot a segment on their innovative model in the dead of July.
"Summer was my first challenge as farming coordinator. It's kind of like our off-season," Caroline says. "It was a great experience to see our land from a different perspective as a farmer. Something we don't really think about is how to protect the soil from the sun and retain moisture when it's the hottest time of the year."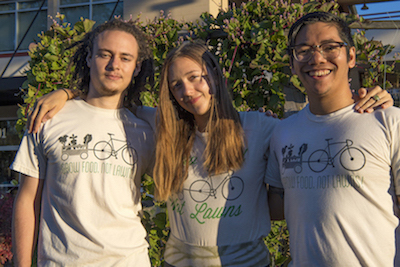 To protect the soil, but also allow the "farmlettes" to flourish, the Fleet crew cultivated a play on the "three sisters method," a farming practice used by the indigenous peoples of Florida to create a symbiotic relationship between corn, beans, and squash. Caroline and company switched out corn for sunflowers to promote pollination. Beans then ran up the stalks and Seminole pumpkin sprawled across the plots, providing ground cover for the soil. When NBC showed up July 15 for a sweaty "swarm ride" – when teams of volunteers travel by bicycle to care for and harvest each plot — Fleet Farming was more than camera-ready.
"I have nothing but amazing things to say about [Caroline]," says Chris Castro, Fleet Farming co-founder and sustainability director for the City of Orlando. "She's evolved to be a very effective community organizer and we are grateful to have her on our team."
Earning an associate degree in Landscape and Horticultural Technology in the spring, Caroline points to her Valencia education as an essential foundation for her farming acumen.
"We learned everything. In the horticulture program, I had some of the most amazing teachers I've ever had," Caroline says. "We would problem-solve about the logic behind growing plants: what they need to survive; common diseases; landscape design; botany and the structural make-up of the plant."
Caroline now feels a responsibility to pass on the knowledge, and expressed gratitude for the intangibles provided to her by Valencia's talented personnel, such as Dr. Javier Garces, who took his students on field trips to places such as Green Sky Growers, an innovative rooftop greenhouse in Winter Garden.
"Dr. Garces is amazing; he made me want to learn more. He would always say things like, 'It depends.' There is more than just a yes-or-no answer to questions of plant logic," she says. "He would give us so many truly enriching experiences. He would bring microscopes to look at plant cells, spores, so many interesting things … He becomes your friend but someone that you truly respect."
Caroline excelled in Dr. Garces' class, and now that she is building her horticultural knowledge on a foundation of study and experience, she is poised to lead Fleet Farming into the next chapter, one that could become a beacon for urban agriculture across the United States.
Fleet Farming recently received a grant from the U.S. Department of Agriculture with matching funds from City of Orlando and Orlando City Soccer, totaling $250,000. With the money, Fleet Farming will bring its 'Food, not lawns' model to the Parramore neighborhood, setting up a Farmers' Market at Orlando City soccer stadium that will distribute Community Supported Agriculture (CSA) boxes filled with "hyper-local" produce. These boxes will include seasonal produce harvested by Fleet Farmers on 10-15 neighborhood "farmlettes" and sold at a flat rate through memberships held by market attendees.
Fleet Farming will enter the Parramore neighborhood at a time when UCF and Valencia prepare to anchor the Creative Village with a joint Downtown Campus. As Valencia's culinary program will be relocating to this complex adjacent to Parramore, Orlando's newest urban agriculture experiment could further open the door for the kind of service-learning opportunities in which Valencia students are already engaged. Though Fleet Farming plans to hire a resident of Parramore to manage the expansion, it will continue to rely heavily on volunteer work and student internships as it enters the next chapter. For now, Caroline feels fortunate to have current Valencia students Mike Clevenger, Sigourney Salusso, and Bradley Holcomb working as interns in this transformative time for the small, but powerful nonprofit.
"Having the Valencia interns and knowing that we all went to the same school, I feel like we understand each other better. And I know they are passionate," Caroline says. "I feel like Valencia students sometimes wait to go to universities, because they want to discover what they're passionate about. Going to Valencia gives you that time to really discover yourself and what you want to do. Working with Valencia interns, I can see they have this passion within them, and they're trying to fit into an educational path. Valencia is supportive, local, and connected enough that students have that space to discover what their true calling is. I feel fortunate that I have them when they're going to Valencia, because I have them at this time when they are deciding what is most important in their lives."