Orlando, FL – The Valencia College Theater will present the classic French comedy, Moliere's "The Bourgeois Gentleman" in the college's Black Box Theater April 1 through April 10.
"The Bourgeois Gentleman" satirizes attempts at social climbing and the bourgeois personality, poking fun both at the vulgar, pretentious middle-class and the vain, snobbish aristocracy. Even the play's title is a joke: in Molière's France, a "gentleman" was always born into nobility – so there could be no such thing as a bourgeois gentleman.
This madcap, fast-paced farce centers around Mr. Jourdain, whose father made a fortune as a cloth merchant. The foolish and middle-aged Jourdain has only one goal, to rise above his middle-class background and be accepted as an aristocrat. To do this, he dresses in fancy clothes and attempts to learn the gentlemanly arts of fencing, dancing, music and philosophy. Instead, he makes a fool of himself.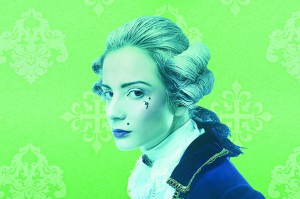 The performance will be directed by Kathleen Lindsey-Moulds. Set design by Greg Loftus and lighting designed by Michael Shugg.
Performances will be held April 1 through April 10 and will be staged in the Black Box Theater, located in Building 3 on Valencia's East Campus.  These include two Sunday matinee performances at 2 p.m.
General admission tickets cost $12. Senior citizens, Valencia faculty, staff and students may purchase tickets for $10. Tickets can be purchased online at www.valenciacollege.edu/arts.
Tickets and more information are also available by calling the college box office at 407-582-2900.
WHAT:           The Bourgeois Gentleman
WHO:             The Valencia College Theater
Directed by Kathleen Lindsey-Moulds
WHEN:           April 1, 2, 4,7, 8, 9 at 7:30 p.m.
Matinees: April 3 and April 10 at 2 p.m.
WHERE:        Building 3, Black Box Theater
Valencia College East Campus, Performing Arts Center
701 N. Econlockhatchee Trail, Orlando, FL.
TICKETS:     $12 general admission
$10 for Valencia students, faculty, staff and senior citizens
Box Office: 407-582-2900
Online: www.valenciacollege.edu/arts