Orlando, FL – Valencia College Theater will present Tony Kushner's groundbreaking "Angels in America: Part 1" at the college's East Campus Performing Arts Center Feb. 18-26.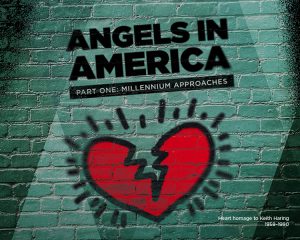 The play, which won a Pulitzer Prize and was later transformed into an HBO miniseries, was written in two parts, "Millennium Approaches" and "Perestroika." The parts were written so that they could be performed separately or together. The Valencia production will stage Part 1.
In "Millennium Approaches," set in 1980s New York City, a gay man is abandoned by his lover when he contracts the AIDS virus, and a closeted Mormon lawyer's marriage stalls. Characters include lawyer Roy Cohn, Ethel Rosenberg, a former drag queen who works as a nurse, and an angel make an appearance.
The production will be directed by Jeremy Seghers.
Valencia audiences may remember Seghers' 2020 production of the classic Greek tragedy, "The Bacchae," which he staged as a drive-in play, which audience members could watch from the comfort of their cars. He has also turned heads with his 2019 production of the quirky Simpsons musical, "Mr. Burns, a Post-Electric Play" and his 2017 production of "Red Black and Ignorant," a post-apocalyptic drama that he staged in the woods behind Valencia's East Campus.
Tickets are $12 general admission, $10 for students, faculty, staff, alumni and senior citizens. To buy tickets, please visit valenciacollege.edu/arts or call the box office at 407-582-2900.  Seating is limited, to provide social distancing for audience members. Advance purchase is advised.
Valencia's East Campus is located at 701 N. Econlockhatchee Trail, Orlando.
Note: The play contains adult themes and language. Children under 8 will not be admitted.
What:             "Angels in America, Part 1"
Who:              Valencia College Theater
Directed by Jeremy Seghers
When :           ONLY 6 PERFORMANCES
 Friday, Feb. 18 at 7:30 p.m,
Saturday, Feb. 19 at 7:30 p.m.
Sunday, Feb. 20 at 2 p.m.
Thursday, Feb. 24 at 7:30 p.m.
Friday, Feb. 25 at 7:30 p.m.
Saturday, Feb. 26 at 7:30 p.m.
Tickets:   $12 general admission; $10 for Valencia students, faculty, staff and senior citizens
Box Office: 407-582-2900
Online: www.valenciacollege.edu/arts