Orlando, FL – Valencia College Theater will present the deeply moving rock musical, "Next to Normal," about a suburban family struggling with the effects of mental illness, at the college's Black Box Theater June 9-18.
In the play, Diana seems to have an ideal life – she is educated, well-off, and happily married with two teenage children. But her life is a suburban illusion.
Behind the mask of a happy family lies the truth: Diana has bipolar disorder, plagued with anxieties, mood swings and delusions that trace back to a family tragedy 16 years earlier. The musical also addresses issues such as suicide, drug abuse, ethics in modern psychiatry, and the underbelly of suburban life.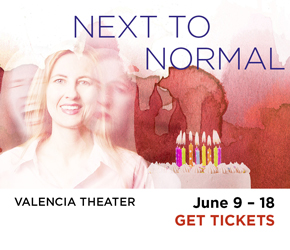 "Next to Normal" takes audiences into the minds and hearts of each character, presenting their family's story with love, sympathy and heart.
The musical, which opened on Broadway in 2009, was nominated for 11 Tony Awards and won three: Best Original Score, Best Orchestration and Best Performance by a Leading Actress in a Musical. "Next to Normal" also won the 2010 Pulitzer Prize for Drama, becoming just the eighth musical in history to receive the honor.
The music was written by Tom Kitt, with book and lyrics by Brian Yorkey. Valencia's production will be directed by Julia Gagne.
The play will be performed in Valencia's Black Box Theater, located in Building 3 on Valencia's East Campus. Due to the intimate setting of the Black Box Theater, late seating cannot be accommodated. Please arrive at least 20 minutes prior to show time.
NOTE: This play contains adult language and themes, including profanity, depictions of mental illness and references to sex. As such, it may not be appropriate for children or audience members who are sensitive to the topics portrayed.
General admission tickets cost $15. Senior citizens, Valencia faculty, staff and students may purchase tickets for $12. Tickets can be purchased online at www.valenciacollege.edu/arts. (Save $2 per ticket by purchasing online with the promo code VALENCIAWEB.)
Tickets and more information are also available by calling the college box office at 407-582-2900.
WHAT:           "Next to Normal"
WHO:             The Valencia College Theater
Directed by Julia Gagne
WHEN:           June 9, 10, 12, 16 and 17 at 7:30 p.m.
Matinees: June 11 and June 18 at 2 p.m.
WHERE:        Building 3, Black Box Theater
Valencia College East Campus, Performing Arts Center
701 N. Econlockhatchee Trail, Orlando, FL.
TICKETS:      $15 general admission
$12 for Valencia students, alumni, faculty, staff and senior citizens
Box Office: 407-582-2900
Online: www.valenciacollege.edu/arts