Orlando – On June 8, Valencia College awarded seven students scholarships — in memory of the seven former Valencia students who were among the 49 killed in the Pulse massacre in June 2016.
The Valencia United LGBT+ Scholarships were handed out at Valencia's Special Events Center on West Campus in front of an audience of college leadership, faculty and community leaders. Aspiring medical student Osher Ostroff, 24, told the room that the scholarship gets her one step closer to achieving her dream.
"My goal is to become a doctor. My dream is to make healthcare more LGBT-friendly, by raising awareness and influencing the culture," says Ostroff, currently in her third semester at Valencia.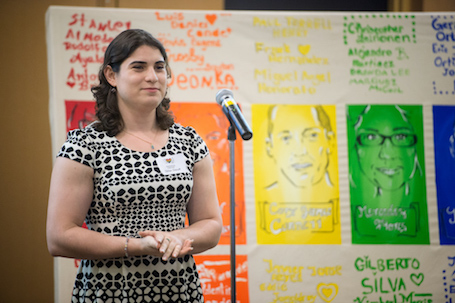 Over the past year, Valencia employees, along with members of the Central Florida community, raised more than $43,000 to create an endowed scholarship fund dedicated to the seven students.
Students were awarded the Valencia United LGBT+ Scholarship – a $500 scholarship — based on their GPA and an essay that reflects their desire to help create a welcoming climate for all students, regardless of sexual orientation, gender identity and expression. Scholarship candidates may be members or supporters of the LGBT and/or Latino community who promote diversity and social justice for all people.
Donors included students, faculty members, and community groups, including the Central Florida Foundation, which donated $5,000 and Miracle of Love, which contributed $8,000.
"Margaret Mead once said, 'Never doubt that a small group of thoughtful, committed citizens can change the world; indeed, it's the only thing that ever has.' Miracle of Love made our contribution to the Valencia United LGBT+ Scholarship fund to be that small group of thoughtful and committed citizens who want to make change happen here in Central Florida," said Angus Bradshaw Jr., executive director of Miracle of Love, Inc. "Our hope is that the scholars will give back to the HIV/AIDS or LGBTQ communities once they've completed their degrees in their respective fields."
Carlos Carbonell, a member of the Valencia Foundation board of directors, helped raise funds online and in the community, in an effort to honor those killed at Pulse.
"The communities most impacted by the Pulse tragedy, LGBTQ and Latinx, have typically encountered roadblocks in gaining educational and financial advantages — low high-school graduation rates and college attendance amongst Latinos, and high homelessness rates amongst LGBT youth," said Carbonell, who is CEO of Echo Interaction Group, a local mobile app development firm. "As both LGBT and Latino, I know firsthand that it was through education that I not only shaped my future as an immigrant in America, but also became empowered as a gay man. Helping the committee raise the balance needed to endow the scholarship is a small gesture to honor the lost potential of the lives of the 49."
On campus, employees contributed through payroll deduction, while students raised money through bake sales and a variety of events.
For accounting professor Lisa Gray, raising money for the scholarship fund was therapeutic and helped her deal with the difficult emotions surrounding the tragedy.
"I wanted to make things better. Most important, this was for the parents. I want each of the parents of a Pulse victim to know that their child's life mattered and will be honored each year through the scholarship, that something positive has come from their loss," Gray said. "Another reason I worked on this so hard was because I want to increase acceptance and understanding of the LGBT community, so that something like this won't happen again."
Although the Valencia United LGBT+ Scholarship is now endowed, the Valencia Foundation continues to accept funds to expand the reach of this scholarship. For more details about the Valencia Foundation, please visit www.valencia.org
What: Valencia United LGBT+ Scholarship presentation
When: 7 p.m. Thursday, June 8
Where: Special Events Center (Bldg. 8), Valencia College, West Campus, 1800 S. Kirkman Road, Orlando