Orlando – Valencia College is launching a food waste recycling program at its East Campus cafeteria, where college officials estimate more than a hundred pounds of food scraps will be converted into compost each week.
The college is partnering with O-Town Compost, an Orlando-based small business that gives local residents and businesses a sustainable way to recycle their food scraps.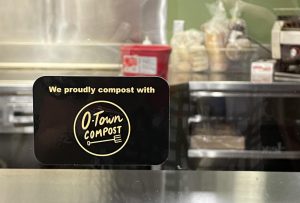 Employees in the East Campus cafeteria began recycling food scraps in early September and accumulated more than 60 pounds of waste – including coffee grounds, leftover pizza, French fries and mushy tomatoes – in the first week. As the program ramps up – and after the college returns to a regular, in-person class schedule with more students on campus – college officials project they may recycle more than 150 pounds of food waste each week from East Campus.
The college operates a similar food waste recycling program at West Campus, in partnership with the city of Orlando.
"We are excited to expand our food waste collection to our East Campus with our new partnership with O-Town Compost.  When organics, like food waste, are sent to the landfill, they produce methane emissions which are over 25 times more potent than carbon dioxide," said Carrie Black, Valencia College's director of energy conservation and sustainability. "Through this program, we are now diverting this waste from the landfill, thus avoiding methane emissions, and instead creating compost to produce healthier and more nutritious plants."
Founded in January 2020, O-Town Compost is a small business that provides food-waste pickup service for residential and commercial clients and turns the waste into compost. Customers can receive 20 pounds of compost twice a year or donate the compost to local community farms. Valencia College's compost allotment will be donated to 4Roots Farm, a nonprofit agricultural center founded by 4Rivers BBQ owner John Rivers, which aims to teach farmers how to grow sustainably. Some compost will also be donated to other urban farming projects, such as Fleet Farming.
"O-Town Compost is thrilled to be working with such an influential institution as Valencia College, which is demonstrating environmental leadership in the Orlando community," said O-Town Compost founder Charlie Pioli. "We hope to further composting education among college-age students by offering more composting options on campus."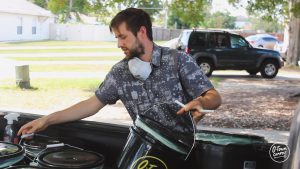 Currently, the food service team is dumping waste produce and food scraps into four 17-gallon bins located in the East Campus kitchen area. A driver collects the food scraps once each week and hauls them to O-Town's composting site in Winter Garden.
Valencia hopes to expand the service to other campuses as O-Town's service area grows, Black said.