ORLANDO – Valencia College will host an exhibition of digital artwork by digital media professor Rob McCaffrey Aug. 14 through Oct. 2 at Valencia College's East Campus, in the Anita S. Wooten Gallery.
Valencia will host a reception for McCaffrey on Friday, Sept. 11, from 6:30 to 8:30 p.m. in the gallery. The artist will present a lecture about the exhibit at 7:30 p.m.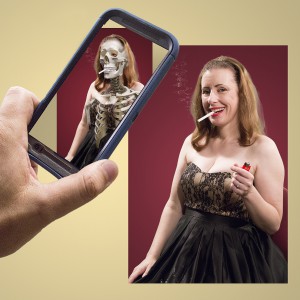 In the exhibit, titled "Living Photographs: Augmented Reality in Art," McCaffrey uses still photography which, when scanned with a phone, tablet, or wearable tech, triggers a related video overlay. The result is an animation experience often described by viewers as "magic photos." McCaffrey's work is often dark and whimsical, and "Living Photographs" uses these augmented overlays to explore themes of depression, addiction, and lost love.
McCaffrey earned an MFA in motion picture, television and recording arts from Florida State University in 1999. He currently serves on the IEEE Augmented Reality Learning Experience Model standards group. He saw his first example of augmented reality at a 2006 convention for the National Association of Broadcasters. There, he spotted an augmented 3-D model of a car floating above a printed magazine ad for the same vehicle. Today, McCaffrey uses the technology as a way to explore hidden emotional and alternative realities by using static art as triggers for animated elements.
The Anita S. Wooten Gallery is located in Building 3, room 112, on Valencia's East Campus, 701 N. Econlockhatchee Trail, Orlando.
The gallery is open from 8:30 a.m. to 4:30 p.m., Monday through Friday. For more information, please call 407-582-2298 or 407-582-2268.