Is the United States in danger of exporting all of its manufacturing jobs? What impact will this have on the U.S. economy?
Come hear the nationally ranked Rollins College Debate Team tackle this hot topic in a debate with the Beijing Foreign Studies University Debating Society on Wednesday, Jan. 30 at Valencia College's West Campus.
The debate starts at 7 p.m. and will be held in the Special Events Center (Building 8) room 111. The event is free and open to the public.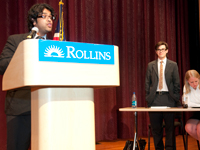 As in all parliamentary style debates, audience members are encouraged to participate. Be prepared for a lively debate – in which heckling is permitted and short, witty interruptions are allowed. There will be an opportunity for audience members to ask questions or make statements.
Valencia's West Campus is located at 1800 S. Kirkman Road, Orlando.