What's the latest buzz on electric vehicles? On Tuesday, July 17, head to Valencia College's West Campus to find out.
From 10 a.m. to 12:45 p.m., the college will host an informational workshop on electric vehicles, with models of both electric and hybrid cars on display. Visitors will see a new documentary, "What Is the Electric Car?" and hear about the latest on charging stations and electric car owners' experience.
The workshop is free and open to the public. It will be held in Building 11, room 106, at Valencia's West Campus, 1800 S. Kirkman Road, Orlando.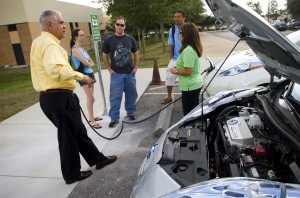 The event kicks off with a presentation by John Parker of Orange County's environmental protection division about the effort to develop "electric corridors" through Central Florida. Natalia Paredes from Orlando Utilities Commission will discuss the initiative to install public charging stations in Orlando. And workshop attendees will hear from Mark Thomason, who will present an owner's perspective of an electric vehicle.
From 11 to 11:30 a.m., visitors are encouraged to look at EVs and PHEVs (plug-in hybrid electric vehicles) in the parking lot outside Building 11.
At 11:30, the workshop will show "What is the Electric Car?" The 74-minute film, which debuted at the Orlando Film Festival, traces the early history of EVs and moves forward 100 years to follow the re-birth of the industry. The documentary also debunks many of the myths about electric vehicles.
The event is being coordinated by Get Ready Central Florida, a coalition of state and local governments, electric utilities, businesses and electric vehicle enthusiasts.
Valencia College's West Campus now has five charging stations, each capable of charging two parked vehicles. Valencia agreed to host the charging stations to follow through on the college's 2009 pledge to reduce greenhouse gas emissions.  Transportation to and from the college's campuses by students, faculty and staff produce 47 percent of the college's total greenhouse gases, according to the college's May 2010 Greenhouse Gas Inventory.
For more information, contact Deborah Green, Valencia College director of sustainability, at dgreen1@valenciacollege.edu or call 407-582-1830.