Orlando – Valencia College is proud to host "Graphic Guts," an exhibit by internationally acclaimed artist and social activist Luba Lukova, which will run Aug. 16 through Sept. 27 at Valencia's Anita S. Wooten Gallery, 701 N. Econlockhatchee Trail, Orlando.
Valencia will hold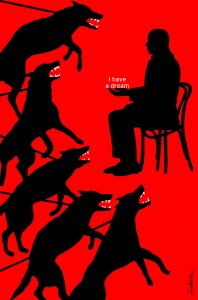 a gallery reception to welcome the artist on Sept. 6 from 6:30 to 8:30 p.m. Lukova will speak at 7:30 p.m. Admission to the gallery is free.
The Bulgarian-born Lukova is regarded as one of the most distinctive image-makers working today. Whether by using an economy of line, color and text to pinpoint essential themes of the human condition or to succinctly depict social commentary, her work is powerful and thought-provoking. In a climate dominated by complex multi-layered imagery, Lukova's work is a refreshing contrast. Using engaging composition and energetic contrasts, her distinctive style is powerful in its simplicity and vivid palette, often achieved with single ink on colored paper.
Lukova's work has been widely exhibited in the United States and internationally, with solo exhibitions at the UNESCO in Paris; the DDD Gallery in Osaka, Japan; La MaMa Gallery, New York; and the Art Institute of Boston. Her work is included in the permanent collections of New York's Museum of Modern Art, the Bibliothèque nationale de France in Paris; the Library of Congress, Washington, D.C.; and the World Bank.
In 2008, she released a critically acclaimed book of posters entitled Social Justice 2008, 12 Posters by Luba Lukova. Since its publication, the posters have been exhibited widely around the world.
The Anita S. Wooten Gallery is open Monday through Friday, 8:30 a.m. to 4:30 p.m. The gallery is located in Building 3 on Valencia's East Campus, 701 N. Econlockhatchee Trail, Orlando. For more information, please call 407-582-2298.