Valencia College will display the artwork of Florida native Richard Currier at the Anita S. Wooten Gallery on Valencia College's East Campus, from June 14 through Aug. 3.
An opening night reception will be held on June 14 from 5 to 7 p.m. Admission is free.
Currier, a Florida native, studied at the Ringling School of Art and Design in Sarasota, Fla., one of the few schools in the country at that time that concentrated on traditional skills of painting on canvas with a brush.
"As a painter of 'real' objects, I have always been drawn towards dramatic imagery that uses contrasting elements of color, shape and space. I paint until the objects become more than what they are. Although 'realism' is not necessarily the goal, this seems to result in a heightened reality to the images," he says.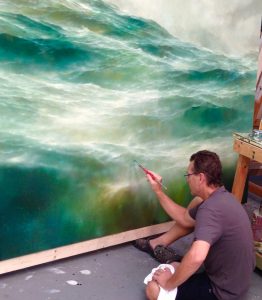 "Landscapes, on the other hand, have their own aesthetic. Apart from social or political forms of art, they are a response to a time and place processed through the artist's imagination. Based on my travels throughout my native Florida, I draw on my emotional responses to the mental images I have collected over the years. I focus not on the objects found in a landscape but on the spaces, infused with light, that lie between the objective realities. That is where I find the passion for painting."
Currier built his house and studio himself, close to the Atlantic coast of Florida in the town of Micco. He draws inspiration from the abundance of fruit and flowers, the light-bathed woods, and the storm-battered clouds and sea. But most of all, he says he is inspired by the ability of oil painting to achieve an almost operatic grandeur just by virtue of its techniques.
Currier's work has been shown at the Contemporary Art Center of Virginia, Quinlan Museum, Daytona Museum of Art and Science, and the Deland Museum of Art. The artist's work ranges from atmospheric landscapes to dramatic ocean scenes.
The Anita S. Wooten Gallery is located in Building 3, room 112, on Valencia's East Campus, 701 N. Econlockhatchee Trail, Orlando.
Admission to the gallery is free. The opening night reception is free and open to the public.
The gallery is open from 9 a.m. to 4:30 p.m., Monday through Thursday and on Fridays from 9 a.m. to noon. For more information, please call  or 407-582-2268.