Nearly 75 years after the end of World War II, Valencia College will host an exhibit of photographs from the Japanese city of Nagasaki taken before and after the Aug. 9, 1945 atomic bombing, which killed approximately 40,000 people.
This photo exhibition — which is on loan from the Nagasaki National Peace Memorial Hall for the Atomic Bomb Victims in Japan — displays images of the Japanese city and the impact of the bombings, but also examines the lingering effects of nuclear weapons on humans.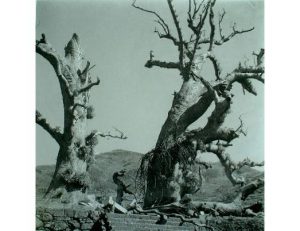 It will be on display from Oct. 7-11 in the East Campus Black Box Theater. The exhibit is open to the public and may be visited any time without appointment. The Black Box Theater, which is located in Building 3, is open from 8 a.m. to 7 p.m., Monday through Friday.
At the event's opening reception,  guest speaker Sadahiro Kiyono, a Nagasaki survivor who was eight years old at the time of the bombing, will share his recollections of the event and the fallout over the years as the effects of radiation manifested among his friends and family. Attendees will also have the opportunity to learn to make origami cranes, which emerged in the aftermath of the bombing as symbols of peace, and to leave their thoughts on cards that will be returned to the Nagasaki Foundation to be preserved in their Peace Memorial.
The opening reception will be held on Monday, Oct. 7, at 5  p.m. The reception will be held in the Building 3 atrium on East Campus. Valencia's East Campus is located at 701 N. Econlockhatchee Trail, Orlando.
The exhibit and guest speaker were brought to Orlando by Valencia College's Humanities Speakers Series, in conjunction with the Orange County Library System.
After the exhibit closes at Valencia, it will move to the Orlando Public Library from Oct. 13 through Nov. 2. Survivor Sadahiro Kiyono will speak at the public library on Tuesday, October 8 at 6:30 p.m. at the Orlando Public Library. His appearance will be held on the main stage in Library Central, which is on the first floor. The Orlando Public Library is located at 101 E. Central Boulevard, Orlando.