ORLANDO – Valencia College will display the artwork of Brazilian folk  artist Clóvis Dias Júnior at two receptions to be held on June 6 and 7 at Valencia's West Campus in Orlando and the Osceola Campus in Kissimmee.
Clóvis Dias Júnior was born in the rural northeast of Brazil and, though he had little formal art training, his career took off in 1993 after he won first place in an international poster competition. Today, Dias's work — which is considered "naif" or "outsider art" — has been shown in galleries, embassies and universities in Argentina, France, Germany, Italy, Portugal, Qatar and the United States. His work hangs in permanent collections in Brazil's national Congress in Brasilia and in the Soccer Museum in Qatar.
At Valencia, Dias will be moderating an exhibit of 16 recent paintings and will be on hand to meet students and the public. The West Campus exhibit and reception will be held on June 6 in the Building 5 atrium from 5 to 7 p.m.  Valencia's West Campus is located at 1800 S. Kirkman Road, Orlando.
The Osceola Campus exhibit and reception will be held on June 7 from 5 to 7 p.m. in the Building One Exhibit Hall. Valencia's Osceola Campus is located at 1800 Denn John Lane, Kissimmee.
Both events are free and open to the public. Brazilian snacks and other refreshments will be served.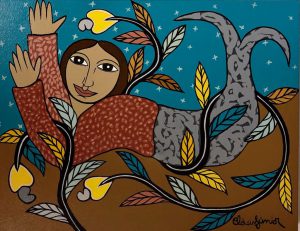 The artist is pleased to bring his work to Central Florida during Pride Month and, in honor of the celebration, Dias will donate one of his paintings to the Valencia Foundation to benefit the Valencia United LBGTQ+ Scholarship. Dias will present his painting to Valencia Foundation officials at the West Campus exhibit and reception. Members of the college foundation and the college's Gay-Straight Alliance will be on hand to participate.
The events are sponsored by the Valencia College office of student development, with support from community partners at the Point Orlando Hotels and Suites and the Central Florida Brazilian-American Chamber of Commerce.  The events were organized by Valencia College professor Richard Sansone with support from the Valencia College department of arts and humanities.