Orlando – If you're looking for an art exhibit that is sure to make people talk, head to Valencia College in January and February to see "The Mirror Stage," an exhibit by south Florida sculptor and installation artist Leah Brown, which will run Jan. 15 through March 4 at Valencia's Anita S. Wooten Gallery, 701 N. Econlockhatchee Trail, Orlando.
Valencia will hold a gallery reception to welcome the artist on Jan. 15 from 6:30 to 8:30 p.m. Brown will give an artist lecture at 7:30 p.m. Admission to the gallery is free.
Inspired by "Alice in Wonderland," Brown has focused much of her recent work on recreating the fantasy world of dreams through scenes and sculpture. There are many hybrid creatures in her artwork – some animal bodies with human heads, others human bodies with animal heads.
Well known in south Florida for her dreamscapes, Brown says shape-shifting is common in dreams. One person becomes another; one space dissolves into the next. In her unique work, she attempts to recreate the shape-shifting world of dreams where the real and unreal meet nightly.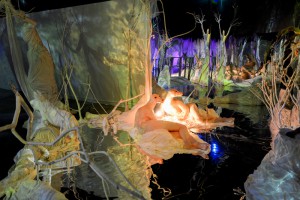 Visitors will see that her work uses a variety of sculptural processes including modeling, mold making, altering found objects, and site-specific work such as draping and suspending fabric, and mirroring walls and floors. The result is a most unusual art installation.
Brown, who studied sculpture at the Rhode Island School of Design, is currently exhibitions director for The Projects in Flagler Arts and Technology Village, an arts district in Fort Lauderdale. She moved to Fort Lauderdale in 2008 and, with her husband, Peter Symons, began co-curating The Projects Contemporary Art Space in 2010. Brown, who earned her MFA from the University of Miami in 2014, is also a partner and artist for the public art and design collaborative, Art+Light+Space Studios.