When Marty Smith looks for employees to work at the largely-automated commercial bakery that he runs in South Orlando, he's searching for people who have mechanical aptitude and can be trained to program and repair the automated equipment.
That's not always easy to find.
"It's almost impossible in the state of Florida," says Smith, who is the plant engineer for Bimbo Bakeries' Taft-area bakery, which employs 57 workers.  "I've been in Florida nine years and I've never been fully staffed."
So Smith, along with seven other manufacturing employers, came to Valencia College's West Campus this week to search for employees among a small, but talented pool — the 20 students who graduated recently from Valencia College's advanced manufacturing program. The program, which is funded by a grant from the U.S. Department of Labor, is designed to give workers the basic skills for jobs in high-end manufacturing.
The students — who applied for the program through CareerSource Central Florida — came from a wide variety of backgrounds, including stints in the military, hospitality and retail stores. Already screened for math skills and background checks, the 20 graduates spent four months learning about modern-day manufacturing, including quality, safety and maintenance.  Their training included 10 weeks spent learning how to operate a CNC (computer-numerically controlled) machine — the type of automated machine which has become the backbone of many manufacturing plants.
In Valencia's training program, students can earn two certifications: one as a certified production technician and another certification as a CNC production specialist.  One of the Valencia's grads, Roshelle Lindsay, got a perfect score on the CNC certification test.
"Even though they're getting an entry-level employee, the manufacturers are getting people who know about manufacturing process and have some CNC training,"  said Carl Harris, who runs Valencia's advanced manufacturing training program. "We added CNC training to the program, based on feedback from the manufacturers."
The CNC certification is an internationally-recognized certification and Valencia is only the second college in the nation offering this training.
That's good news for manufacturers like Knight's Armament Company, a Titusville company that produces military and commercial guns, as well as night-vision scopes.
"It's very hard to find experienced machinists," said Casey Tucker of Knight's, which has 300 employees.  "We want to bring in people and we want them to grow — not stay at an entry-level job." But some entry-level employees are intimidated by the high-tech machinery, which includes CNC machines.  To fill openings in the company's CNC, tech and quality-control departments, Tucker and Eric Rodriguez, a supervisor, visited Valencia's jobs fair for the advanced manufacturing grads.
Of the 20 students who graduated from the program, three already have jobs — and, thanks to the job fair, the others have plenty of options. Eight of the students landed jobs at this week's job fair, while another six have lined up second interviews with local companies.
Miguel Ortiz, 46, is currently working as a contract employee for Mitsubishi Power Systems. Although he was hired on a temporary basis, he's hoping to stay on full-time. "I was actually working for another company and when the people from Mitsubishi Power Systems saw my resume, they called me," said Ortiz, who was unemployed when he went through Valencia's training program.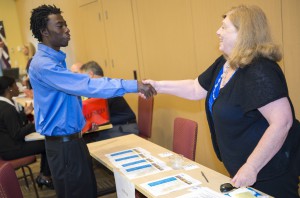 For Demetrius Shannon, who just completed the training, the job fair provided a good lead: A job that pays $13.80 an hour with an Apopka company. "I want to do machine programming," said Shannon, 29, "and eventually I would like to become an engineer."
The companies looking for employees run the gamut, from small family-owned companies, such as Knight's Armament and Regal Boats, to large, global companies such as Bimbo Bakers and Lockheed Martin.
The reason? There's a generation of highly-skilled workers — such as machinists  — who are approaching retirement and today's high-school graduates don't have the skills necessary to replace them.
"Lockheed Martin is going to lose 40 percent of their skilled people in the next five years due to retirement," says Harris.  "Those are skills that the colleges and universities are just not training people to go into. So that's what we're trying to do — to open the doors for entry-level workers to go into these fields."
At the job fair, staffing companies, such as Randstad, interviewed the students, as did local employers, including Amy Medley of Regal Boats. "We have assembly line positions open," she says, but they're hard to fill because it's hard to find workers who have a good work ethic and understand the kind of work involved in building boats. "We're looking for someone who knows what fiberglass is — and understands that this is very physical work , in very hot conditions," she says. "We have on-the-job training, but we need people who understand how to operate power tools."
For Roshelle Lindsey, the training she received at Valencia may be the ticket to get her foot in the door — and hopefully one day work her way into management. Although she holds two degrees in business administration, Lindsey couldn't land a job into the manufacturing field before she came to Valencia. "The feedback I was getting was that they wanted people with specialized experience," said Lindsay, 30. Now after six months in the Valencia program, she hopes to learn about manufacturing from the factory floor.
"When I signed up for the Valencia program, I really didn't know what to expect," says Lindsey. "But getting the two certifications — the CPT and CNC — and being able to to work with Al Stimac (president of the Manufacturers Association of Florida) at Metal Essence was an incredible experience. Now I want to put my CNC knowledge to work."