How do you teach students  to insert stents and balloons into arteries,  so they're ready to work on real patients when they graduate?
At Valencia College, students in the college's Cardiovascular Technology (CVT) program learn by using training simulators that deliver a virtual-reality experience.  Valencia's  CVT program educates and prepares students to become Invasive Cardiovascular Specialists known as a Cardiovascular Technologists (CVT).
Using a state-of-the-art Simbionix simulator, students gain hands-on experience placing guidewires, stents and balloons, but they also learn the intricacies of cardiac rhythm management,  BTK (below-the-knee) procedures designed to save the lower leg, particularly important for diabetics.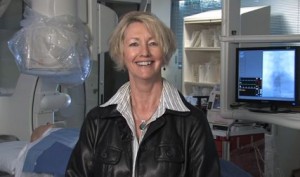 "Ultimately, the use of simulation in the health science programs at Valencia is critical to the student's training, said Penny Conners, Dean of Allied Health at Valencia College.  "In our cardiovascular technology program, with the aid of the Simbionix simulator, our students are able to replicate the exact procedures that they will be performing in the hospital setting. In this regard, simulation helps the students to understand and put safety first for the patients so they can give the best care possible while working in their field."
Click here to watch a video of Valencia students using the simulator.
The ANGIO Mentor provides experience with basic/advanced guidewire and catheter skills, familiarity with endovascular procedures, and immerses them in the cath lab team experience.  Using the simulator, students also learn how to operate the C-arm, patient's table, fluoroscopic screen, as well as how to read the hemodynamic monitoring and administer medications due to complicated treatment.  The simulator offers hands-on training that is designed to enhance manual dexterity and improve appropriate instrument decision making.  Because of the simulator's high-end haptic, students learn a realistic sense of touch needed for learning how to insert guidewires, balloons, stents and other interventional devices.
"The ANGIO Mentor has been widely embraced by medical colleges in the education of surgical residents and fellows," said Inbal Mazor, vice president of marketing for Simbionix. "Now, our portable haptic simulators and vast library of modules and cases have been embraced by community college CVT programs."