ORLANDO – The United States Green Building Council's Central Florida Chapter has awarded Valencia College a "Building of the Year LEEDership Award" for 2012 for the college's University Center, a joint-use facility that Valencia shares with University of Central Florida (UCF) on Valencia's West Campus.
The award was made to college representatives at the annual LEEDership banquet at the Rosen Shingle Creek Hotel on Jan. 17.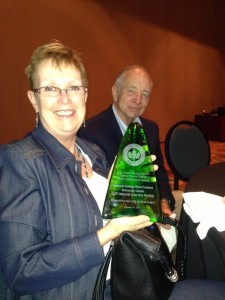 Recognized as the chapter's "New Construction Small Project of the Year Award," University Center is a three-story, 100,000 square-foot building on Valencia's West Campus, located at 1800 S. Kirkman Road, Orlando.  The $23 million facility opened in August 2010 with more than 40 classrooms, a state-of-the-art testing center, computer labs, study rooms, faculty offices and a cafe. Study rooms are filled with natural light and offer sweeping views of the campus.
The principal architect was Nathan Butler of the firm C.T. Hsu + Associates.
The building has many sustainable features, including:
The building's orientation and outer shell capitalize on the use of daylight.
The building uses 28.5 percent less energy than a conventional building, so the college spends about $35,000 less on energy costs each year.
 16% of the building's electricity comes from a photovoltaic array on the roof.
Potable water use is 48.4% below similar buildings.
More than 300 tons of construction waste was recycled.
The LEEDership award, Valencia College's first, was accepted by Lamar Powers, Valencia's facilities director and project manager for the University Center, and Helene Loiselle, Valencia's assistant vice president for facilities and sustainability.
Valencia College's commitment to "green building" extends to its renovations as well as new building, and the college's facilities department continues renovating to improve energy efficiency and create a healthy environment for students, faculty, and staff.
Valencia College has constructed six new buildings since its 2006 commitment to build only to LEED Silver or above, or the equivalent. The first three were built on West Campus in 2009 and 2010, and each was awarded LEED Gold certification.
In 2012, Valencia opened three more buildings. Two (the Lake Nona Center and Building 10 on West Campus) were certified as Three Green Globes, which is equivalent to LEED Gold.  The third, Building 4 on Osceola Campus, is anticipated to be certified LEED Gold. Building 4, which is Valencia's largest building at 150,000 square feet, was completed in December 2012 and opened for classes in January 2013.
All six of college's new buildings include extensive energy-efficiency features, which lower their operating costs.