The 19th Annual Valencia Film Celebration will be held March 20-22 and will showcase three feature-length films produced by film industry professionals in conjunction with Valencia College's film production students.
This year's showcase features screenings of the star-studded film "Day One," plus the comedy "Frank vs. God" and the thriller, "Missionary."
The celebration kicks off each night at 7:30 p.m. and will be held at the Performing Arts Center at Valencia College's East Campus, located at 701 N Econlockhatchee Trail, Orlando. Tickets are $7 for the general public; Valencia students are admitted free with a college ID. Proceeds from sales of tickets, popcorn and drinks will support the student film program.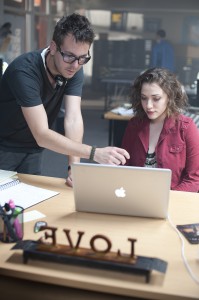 On Thursday, March 20, festivalgoers will see "Day One," a film based on the true story of Florida teenager Renee Yohe (played by Kat Dennings of TV's "Two Broke Girls"). The film – which was shot entirely in Orlando – tells the story of Yohe's struggle with addiction and her attempts to get clean, with a lot of help from her friends. The film stars Chad Michael Murray of "One Tree Hill," Rupert Friend of "Young Victoria" and "Pride and Prejudice," and Corbin Bleu of "High School Musical."
On Friday, March 21, festivalgoers will see "Frank vs. God," a comedy about David Frank, a formerly successful corporate attorney whose spirit has been shattered by the loss of his wife. When a tornado destroys his house – and sweeps up his pet bulldog and only real companion, Brutus – Frank watches helplessly. To add insult to injury, the insurance company won't pay for repairs because the damage was caused by "an act of God." So Frank decides to sue God and drags representatives of all faiths into court as defendants. What starts as a crazy, radical stunt ultimately becomes a deep and soulful journey.
On Saturday, March 22, the celebration wraps up with a showing of "Missionary," the tale of Katherine, a woman struggling to create a better life for herself and her son. When she meets Elder Brock, a handsome Mormon missionary with a troubled past, they begin an incendiary love affair. But when Katherine reunites with her estranged husband, Elder Brock can't accept that things are over – and he will stop at nothing to prove to her that they are meant to be together.
After each film screening, the producers and cast will hold a question-and-answer session with the audience.
General admission tickets are $7 per evening. Valencia students, staff and faculty are admitted free.
To purchase tickets by phone, contact the Performing Arts Center Box Office at 407-582-2900. Or buy tickets online at www.19thannualvalenciafilmcelebration.com
All proceeds will go to Valencia College's film program to help fund student-produced films and shorts.
For more details, call Valencia's Film Production office at 407-582-2413. To see clips and learn more about the celebration, please visit www.19thannualvalenciafilmcelebration.com