Valencia College's computer programming students know how to shine in competition — and they did it again this year, sweeping the competition at the Fourth Annual Intercollegiate Programming Competition.
The event, which was held on Saturday, April 5, included teams from six state colleges in Florida, including Seminole State College, Eastern Florida State College, Lake-Sumter State College, Valencia, Florida Keys Community College and St. Johns River State College.
Valencia won the team trophy — which can be seen in Building 9, room 140, on West Campus — and in the individual competition, Valencia students snagged all three top awards. Valencia students Richard Lagow placed first, Frank Dean came in second and Marc Smith placed third. The first place winner received $500, the second-place winner received $250 and the third-place winner received $100. The prize money was donated by Sea World.
During the competition — which is held online so students don't have to travel hundreds of miles to compete — the students are given programming problems that range from easy to nearly impossible. "We try to design it so that everyone would solve something — and no one would solve everything," said Dr. Colin Archibald,  professor of computer programming at Valencia and one of the event organizers.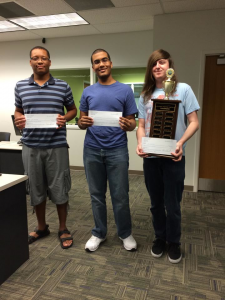 Valencia has won the team trophy three out of the four years of competition. Prior to the tournament, the students are coached by Archibald, Professor Mahendra Gossai and Dr. Lisa Macon. Because Archibald also works on the contest problems, he stops coaching the students as soon as the first draft of problems is created.
"I am proud of our students. I think we worked them really hard and sometimes they resent it, but it's almost to the point that it's embarrassing," said Archibald. "I don't know that our students will be beat at the college level in the foreseeable future."
The judge were professional programmers from Lockheed Martin, AAA, Sea World, FIEA and Valencia's Office of Information Technology.
In addition to winning prizes, students who do well at the contest also get noticed professionals working in the field. "The people who do well in the contest, they get recognized and their names are known (to local industry)," says Archibald. "If a job comes across my desk, just randomly, I know who I'm going to send it to."