Congratulations to Valencia's chapter of the Florida Engineering Society!
For the second straight year, Valencia's chapter was named the Most Active Student Chapter (among two-year engineering programs) for its outstanding level of activity and promotion of the engineering profession.
Valencia's FES chapter advisor Charles Davis, an engineering professor who is also a program advisor for students in engineering, architecture and computer science, was named the Engineering Faculty Member of the Year from the Florida Engineering Society.
The nomination from a Valencia student wowed the judges. "Charles Davis deserves to be the recipient of the Engineering Faculty Member Award due to all the work he puts into making not only the Florida Engineering Society succeed, but also the students associated in the Engineering, Computer Science, and Architecture," said the nomination letter. "Charles Davis currently takes part in advising three different engineering clubs on campus. He is the primary advisor of the Florida Engineering Society and the National Society of Black Engineers and he is the co-advisor of the Institute of Electrical and Electronics Engineers at Valencia College. He selflessly advises all of these clubs with no intention of gaining anything from them. The reason for his involvement with these clubs are due to his passion for the engineering field and also due to his want to increase the amount of S.T.E.M. student graduates.
"Through the Florida Engineering Society, Charles Davis has proved to be a very important asset to our team. He does not fail to make sure that we do not get side-tracked and monitors our progress to make sure that tasks get accomplished. He has also proven to have saved us from situations from time to time such as finding a replacement speaker when our original speaker canceled and also coming up with back-up projects for the Halloween Haunted House when some projects just didn't work out. Charles Davis actively helps us with many other tasks as well such as check up on the status of purchase requests and check up on procedures for certain situations. He never gets asked to do any tasks, he simply does it because he wants to see the club and his students succeed."
The FES Valencia College Chapter became an official chartered club in Fall of 2012. The chapter has approximately 50 to 75 members.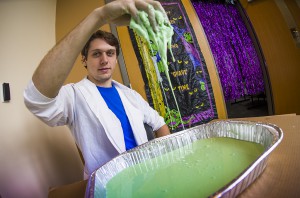 The club holds many events and meetings throughout the year, but one of the biggest is the Physics Haunted House, where future engineers show off exhibits they've created, including "anti-gravity water, a musical Tesla coil, goldfish swimming in flames, plasma globes and "boo bubbles."
Engineer's Week is also a huge event for club and last year's activities included a science fair, a service learning day in wich members taught local middle school students about circuits, a barbecue for budding engineering majors and "Introduce a Girl to Engineering Day," which included a panel of female engineers talking about their experiences.
For more information about Valencia's FES chapter, please visit the FES chapter website.