The latest addition to West Campus — Building 10 — isn't complete yet, but it's already making headlines.
Designed by SchenkelShultz Architecture, Building 10 was featured among eight international projects in the June 2012 issue of "Building Design + Construction" magazine.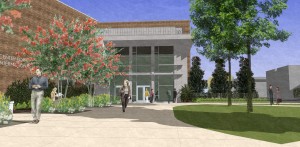 The magazine's three-page "On the Drawing Board" feature cited the $13.3 million, 59,511-square-foot facility's high-tech "collaboratory," a 12,000-square-foot space designed to promote creative discourse for groups ranging in size from three to 80 participants. The space is designed to provide a place for idea generation, strategic planning, and execution of ideas among students, faculty and even visiting members of the business community.
Currently under construction by McCree General Contractors, the three-story facility will house Valencia's Continuing and International Education, and the college's Office of Information Technology. (The Continuing and International Education offices are currently housed at the college's Sand Lake facility, while OIT is now based in the Student Services Building on West Campus.)
Slated for completion in January 2013, Building 10 will also offer classrooms, a testing center, administrative offices and additional meeting rooms.
In addition, Valencia continues its commitment to green building with this project. Building 10 is slated to achieve a Level 2 Green Globes Certification. The Green Globes system is operated in the United States by the Green Building Initiative (GBI), and in 2005, GBI became the first green building organization to be accredited as a standards developer by the American National Standards Institute.