POINCIANA – Valencia College's new Poinciana Campus opened its doors for classes on Aug. 28 – and students packed the lobby as early as 6:30 a.m. on the first day.
More than 1,000 students signed up to attend classes during the first semester, and for many, the new campus brings higher education closer to home.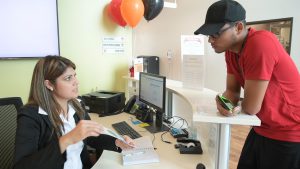 The Poinciana Campus is Valencia's sixth campus in Orange and Osceola counties.
"I was thrilled to meet dozens of students whose commute to college is now less than 15 minutes.  Many shared that they felt like they no longer had an 'excuse' to not go to college," said Kathleen Plinske, president of Valencia's Osceola, Lake Nona and Poinciana campuses.
On the first day of classes, the campus was "bursting with energy" by 7 a.m.,  said executive dean Jennifer Robertson. Students lined up at the bookstore and college staffers pitched in to help manage the lines and help unload boxes at the bookstore.
Although the college opened for classes on Aug. 28, the public is invited to an official dedication ceremony at the Poinciana Campus on Sept. 15 at 9 a.m.
The new $27 million campus features 12 classrooms, a state-of-the-art science lab, two computer labs, a culinary teaching kitchen, a library and tutoring center. Valencia is also opening a Center for Accelerated Training at the Poinciana Campus, where adults can take short-term courses in English, Spanish, construction, private security officer training, warehouse packaging and transportation logistics.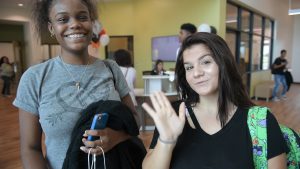 Located at the intersection of Reaves and Pleasant Hill roads, the Poinciana Campus will primarily serve students who have traditionally lacked access to higher education. Until this campus was built, Valencia students who live in Poinciana had to travel 45 minutes by car to Valencia's campus in Kissimmee or endure a bus commute that can take two and a half hours.
"We identified that the high schools in Osceola County with the lowest college-going rates are in Poinciana," says Plinske. "If you have to work or if you're taking care of your family, it's really difficult to spend five hours on a commute."
Valencia will offer two types of degrees at the Poinciana Campus – Associate in Arts degrees and Associate in Science degrees. Students who earn an Associate in Arts (A.A.) degree complete a general education program of 60 credit hours. With an A.A. degree from Valencia, graduates are guaranteed admission to the University of Central Florida through DirectConnect to UCF.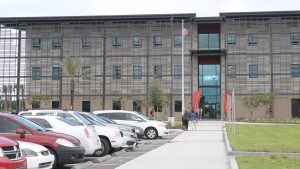 At the Poinciana Campus, students who plan to attend a four-year institution after completing their associate's degree can choose from four program pathways: general studies, health sciences, bio-med/pre-med/biology, or math/engineering.
The Poinciana Campus will also offer five Associate in Science (A.S.) degree programs. These two-year programs provide specialized training that prepares graduates for immediate entry into the workforce. At Poinciana, students can choose from A.S. degree programs in business administration;  culinary management; hospitality and tourism management; computer information technology; and criminal justice technology.
Click here for more information on Valencia's new Poinciana Campus and programs available there.