Orlando, FL – Valencia College's School of Arts & Entertainment, which opened in August 2017 and houses state-of-the-art sound recording and film facilities, has been named a finalist in the AV Awards, an international competition that recognizes outstanding audiovisual installations.
Of the seven finalists in the education category, Valencia College is one of only two projects from the United States. The winners of the AV Awards will be announced in London on Sept. 28.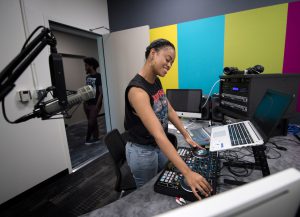 The School of Arts & Entertainment, which is located on Valencia's East Campus, contains two professional recording studios, a 125-seat screening theater, a 2,500 square-foot sound stage and an immersive dub and foley room complete with playback screen. In the film editing rooms, all sound equipment has been Dolby-Atmos® certified, a rare feature for educational institutions. The Dolby-certified mixing room allows the students to shoot movies, mix music and soundtracks in one place.
The $13.5 million building was designed by DLR Group and constructed by Skanska. The Sextant Group served as the audiovisual consultant on the project; LMG installed the video, audio and editing equipment.
For a listing of the AV Awards finalists, please visit:  http://www.avawards.com/avawards2018/en/page/2018-project-shortlist