In the fading daylight, in what may be the greenest classroom in Orlando, a dozen Valencia College horticulture students are busy studying vines and groundcovers. It's part of a basic plant identification class titled Ornamental Plant Materials I.
Their classroom? Leu Gardens, Orlando's 50-acre botanical gardens. Their instructor? Leu Gardens' executive director, Robert Bowden.
The students follow Bowden as he tromps through the gardens, often ignoring the paved pathways. First stop:  a bed of variegated periwinkle.  It's one of Bowden's favorite groundcovers and the plant will happily strangle out weeds.
The students — who will be quizzed on the plants later — snap photos of the variegated periwinkle with their smartphones. Others, like student Daniel Hutchison, draw pictures of the plants in notebooks, while a few pluck a stem into a notebook or, even handier, one's boot.
At home, Hutchison expands on what he's learned in class by looking up more information on each plant they've talked about.
Next it's on to woolly stemodia, a groundcover with fuzzy blue-gray leaves and a natural for Central Florida, says Bowden, because the plant likes full sun and sandy soil.
It would be easy — and probably a lot simpler — to hold plant identification classes in a classroom and show students slides of the plants. But Dr. Javier Garces, who runs Valencia's horticulture technology program, thinks there's a huge benefit to students identifying plants in the out of doors — and learning from a master like Bowden.
"He's a terrific teacher and we are lucky to have such a good relationship with Leu Gardens," says Garces.
One of the benefits of taking a class from Bowden: You know it will never be boring.
Bowden meanders through the gardens, delivering jokes, aneccdotes and many asides. ("Octopus agave, an interesting plant. There are no spines; the only thing you've got to worry about is the tip."  Or there's the "most expensive palm tree we have at Leu Gardens" — expensive because he and a colleague wrecked a rental car while driving to south Florida to buy it.)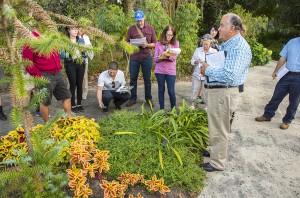 Next, Bowden stops to show the students one type of "bleeding heart vine" not often found in plant nurseries — Clerodendrum x speciosum — which has red and purple flowers, instead of the more common red and white flowers.  The vine "never stops blooming, is heat tolerant and likes full sun" — which is why Bowden planted it along a chain-link fence in his yard (to hide his neighbor's boat). But, Bowden says, you have to keep it trimmed so it doesn't grow out of control.
As the class meanders through the gardens, Bowden stops to show students a small, brown plant with an innocent, Easter-egg name: a "chocolate soldier." The seemingly innocent plant is pretty invasive and will take over an entire garden, he warns the class. "Periodically, we take everybody (on the staff) through the gardens and pull chocolate soldiers," says Bowden.
The students are a varied lot — some are here because they already work in the landscape or horticulture business. Others are trying to figure if plants might be their passion.
"It's pretty interesting," said student Adam Kane, who is trying to decide if he should major in horticulture. "What's good is: You pick up tips for your own garden."
But the class is not a walk in the park (Ok, it is, but there are tests. And they aren't always easy, say the students.)
For the midterm, Bowden didn't walk the students through the gardens as he usually does and quiz them on the spot. Instead, he brought cuttings into the classroom, where students had to identify them.
Student Linda Peattie took the class after she began volunteering at Leu Gardens. "It's a great place to have a plant identification class, isn't it?" says Peattie. Although Peattie has taken horticultural classes before, she was eager to sign up for this class. "I wanted to take it because it was so hands-on. It's been really worthwhile. I've learned much more than I have in many other classes," she says.
When Bowden raves about one of his favorite ground covers — the beautiful, but aggressive pink knotweed — he offers several students cuttings, so they can grow the plants themselves.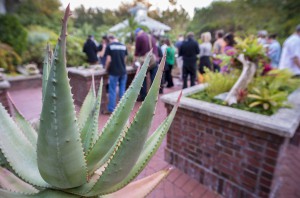 One of the takers is Caroline Chomanics, who is majoring in horticulture — and is working at Nehrling Gardens in Gotha, a historic, experimental garden created by naturalist Henry Nehrling in the late 1800s.  Chomanics tucks cuttings into her boots as she moves through the gardens with the class.
For Kim Hanberry, Bowden's class is both required — because she's earning her associate in science degree in horticulture technology — and delightful. "I love the class; I really enjoy it," says Hanberry, who works at an orchid and bonsai shop and also does interiorscaping. "I like that he includes plants that you don't necessarily want in your garden. He puts in undesirable plants too, so you know as a horticulturist what you don't want to recommend."
As the daylight quickly fades to darkness, the students head back to the classroom, located in a small garden cottage.
On this evening, Peattie is doing a presentation on coleus plants, while another student will speak to the class about hydrangeas, which are nearly impossible to grow in Florida. "We've probably planted 30 varieties here over the last 20 years," Bowden tells the class. "Only one can grow here."
As the class winds down, Bowden is still in fine form, spreading tidbits about Florida plants the way Johnny Appleseed spread seeds.
For those who are interested in hydrangeas, he suggests Dombeya x seminole, often called the "tropical hydrangea."
On transplants: "It's best in the fall. The air is cooler, but the ground is still warm." One exception: Azaleas — transplant them in full bloom, he says, so you'll know what color they are when you're planning your garden.
Want to plant bananas? A word to the wise: They're terribly susceptible to nematodes.
And finally, for students who love growing conditions in Orlando — which is zone 9 on the USDA Plant Hardiness Zone map — Bowden suggests a visit to Seattle, which is the only other zone 9 in the U.S.
"They can grow camellias, some bananas, some hostas," says Bowden. "If you love growing things in Florida, you'd love Seattle."
Just one extra note: "You'll need rubber boots, which you'll wear 360 days a year and a Gore-Tex jacket."